Most people don't think about history when they go out to eat, but at the White Horse Tavern it's hard not too.  This Tavern is the oldest, still running Tavern in the United States, rich with history and still serving excellent food.
The White Horse Tavern has only had 6 owners since being built in 1652 as the two story home of Francis Brinley.  Just over 20 years later in 1673, this property was acquired by William Mayes, Sr., who transformed it into a tavern, identifying it with a white horse – the symbol of a tavern during that time.
For about 100 years before the Colony House was constructed, this tavern was a meeting place for the Colony's General Assembly, Criminal Court, as well as City Council.  When William Mayes Jr., a notorious pirate, became the innkeeper in 1702 after his father, he was granted a license to sell "all sorts of Strong Drink." William caused much embarrassment to the British officials and William's sister Mary and her husband Robert Nichols soon became the tavern's innkeepers.  City councilors continued to dine here and charged their meals to the public treasury.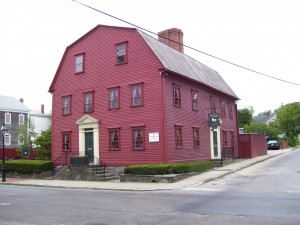 In 1730, a new tavern keeper, Jonathan Nichols, gave the tavern its present name, The White Horse Tavern.  He was followed by Walter Nichols, who left Newport in 1776 to avoid the British, but returned later. When he returned, he added a gambrel rood and re-opened the tavern.
The Nichols family sold the tavern in 1895 to Thomas and Bridget Preece and it became a rooming house.
The structure suffered from use and neglect by 1954, but was acquired by the Preservation Society of Newport and was restored.  In 1957 it re-opened as the White Horse Tavern.  In 1981, O.L. Pitts and three partners purchased the Tavern and continued the tradition of "good fellowship, good food and good cheer."  O.L. Pitts gave the tavern over to Paul Hogan, a native of Newport on his 90th birthday, and the White Horse Tavern continues to thrive.