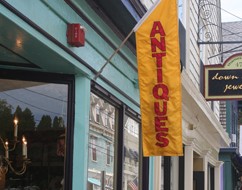 Among the restaurants, mansions, scenic walks and various boats you'll find when in Newport, you'll also find a large selection of Antiques to peruse. Here's a list of a few of Newport's premier Antiquing locations.
Armory Antiques (365 Thames Street): This Antiques shop is located in the heart of downtown Newport, in the Newport Armory, which functioned as a military armory from 1894 to the 1980's.  The Armory has been showcasing antiques and collectibles since 1994 and feature items from over 70 dealers.  They are open 7 days a week and feature nautical and military items as well as a fine selection of furniture, art, vintage clothing, jewelry, coins, books and much more.
Aardvark Antiques (9 JT Connell Highway): In 1969, this shop was established by Arthur Grover. They specialize in stained glass, iron gates, fencing, but have been developing their line of bronze furnishings for the home and garden.
A & A Gaines Antiques (40 Franklin Street): Alan and Amy Gaines have been buying and selling antiques from around New England since 1980. They are closed on Mondays and open 1-5 Tuesday through Sunday. They have a selection of furniture, clocks, jewelry and Asian Exports.
Other shops around town: Antiques at the Drawing Room (152 Spring Street), Seahorse Antiques (91 Long Wharf), Cottage & Garden (9 Bridge Street) and Mark Jager Antiques (25 Mill Street)