The Whitehorne House, located on Thames Street, was built in 1811 and is a rare example of a Federal-style mansion.  It features a formal garden, a hipped roof and classical entry portico, as well as a grand central hallway featuring hand carved details.  This house is home to a large collection of 18th century American furniture, including works from the Townsend and Goddard workshops and Benjamin Baker.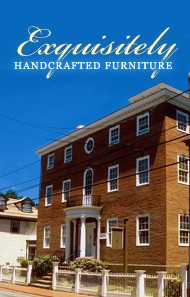 Samuel Whitehorne Jr. made his fortune through various commercial enterprises, such as rum distilling, banking, shipping and most likely slave trading.  Whitehorne was one of Newport's last great merchant "princes" due to the collapsed economy after the American Revolution.  The Whitehorne House was a symbol of his prosperity.  However, it was short lived after two of his ships were lost at sea.  Whitehorne went bankrupt and his house was sold at auction in 1843.  It was converted to shops and apartments and gradually deteriorated.  Thankfully, in 1969, the Newport Restoration Foundation purchased and restored the property.
Not only is the Whitehorne House now home to some of the best examples of Newport and Rhode Island furniture from the late 18th century, but it has a magnificent garden, which is an interpretation of a Federal period garden for an affluent, urban family.  The garden is filled with antique roses, blueberry bushes, fruit trees and various perennials and annuals.  The garden maintains a rustic quality despite its "refined geometry".