August 20, 2017 by Marshall Slocum Inn
Welcome Foodies to Newport, RI
When foodies come to Newport, they will experience nothing they've ever tired before. There are many restaurants with exotic foods, and local shops that stock the most exclusive items.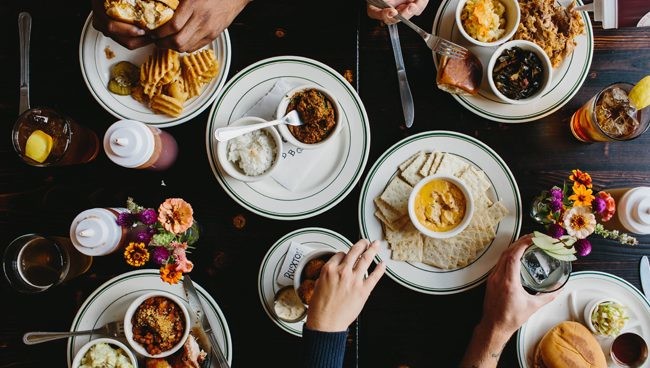 Unique Shops
Newport Jerk Company
The Newport Jerky Company has the basic flavors to the extreme. Alpaca, buffalo, alligator, emu, and kangaroo are some of many unheard of jerkies. Preferably fish options are available such as Ahi Tuna, Salmon, and Swordfish. If have you have a strict diet, there are vegan jerkies options. Coconut, and Mushroom are definitely worth tasting.
This shop also will intrigue Newport Foodies by their candy, hot sauce, salsa, gourmet peanuts and brittle.
Virgin and Aged: Gourmet Oils and Vinegars
Virgin and Aged: Gourmet Oils and Vinegars has an unbelievable tasting room. Imported balsamic vinegars that have been aged up to 18 years are thick and creamy like any dark balsamic vinegars should be. Foodies will appreciate the white balsamic vinegars that are lighter and much sweeter. Any of these could be used for marinating, salads, or even just putting on top of simple items such as cheese. The Fig balsamic is one of their many popular flavors.
Extra Virgin Olive Oils are all imported from around the world and placed into their tasting room. The selection varies from Portugal, Spain, Italy, and many other locations. There are infused flavors into the extra virgin oil such as blood orange, garlic, lime, Tuscan herb blend. They can be used on meat, fish, and vegetables.
The Spice & Tea Exchange
Almost every type of spice and tea is located in the this amazing shop. People will find seasonal to traditional. The popular flavors such as dragon tea, blueberry black tea, hazelnut cookie tea sound fascinating. In the other section are herbs, whole spices, salts, peppers, chiles, seeds, powders and much more.
All of the shops are located downtown, right off Thames Street.
Restaurants
Where do the Foodies go for lunch and dinner within Newport, RI?
Bouchard Inn & Restaurant has a menu with an exquisite modern French with an American interpretation. Each item is at the pinnacle of artisanal local freshness.
Fluke Wine Bar has local owners making each item on the menu fresh, seasonal, and unique. They have a modern American cuisine with a relaxing atmosphere.
Stoneacre Pantry is a restaurants featuring farm to table. The restaurant focuses on sustainability and quality while helping local farms and fisherman.
Foodies in Newport will discover the inspiring shops and restaurants. This will make an local or traveler happier than ever.
October 9, 2012 by Marshall Slocum Inn
In the spirit of Fall and Halloween, the Friends of Ballard Park will be hosting the 10th Annual Ballard Park Pumpkin Tour.  Pumpkins decorated by various members of the community including school groups, community groups, artists and others, will be displayed along the trails of Ballard Park on October 13th from 4:30 to 9pm.  Parking will be available at Rogers High School, which is located across from the park.  Ballard Park is Newport's only Nature Preserve, and this event brings in thousands of people every year.   It is free and open to the public. It will be held rain or shine and guests are advised to bring flashlights to help guide themselves along the trails.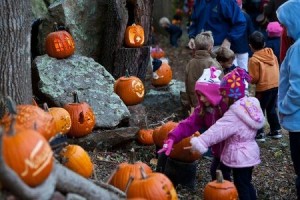 The week before the Tour, pumpkin carving parties are held across Aquidneck Island in preparation for the showcase.  Pumpkins range from simple jack-o-lanterns, to elaborate carvings.  After the Tour, before cleanup on Sunday the 14th, the public is invited to come and take the pumkpins home to display for themselves.  This is a great event that brings the community together, and keeps the public interested in maintaining this 13 acre preserve.
October 3, 2012 by Marshall Slocum Inn
So this weekend is the International Oktoberfest here in Newport.  I thought it would be fitting to have a recipe involving beer for you all to make and enjoy whether or not you're able to celebrate downtown.  This is a Bed & Breakfast, though, so I was hoping for a recipe your could enjoy for breakfast, but most recipes involving beer are for stews or chicken and what not.  There's always beer bread, but thats kind of predictable.  Thankfully, I found something involving beer for the most important meal of the day, so for all you beer lovers who want to bring some beer into your breakfast, here's a recipe for Beer Coffee Cake.
Ingredients:
2 cups all-purpose biscuit mix
1/2 cup sugar
1/2 teaspoon ginger
2/3 cup beer
1 egg, slightly beaten
Topping:
1/2 cup flour
1/3 cup sugar
1 teaspoon cinnamon
1/3 cup butter
1/4 cup chopped peacans
Directions:
For coffee cake: in a bowl, combine biscuit mix, sugar and ginger
In a separate bowl, combine beer and egg
Combine wet ingredients with dry ingredients, stirring lighly, just until moistened
Pour mixture into a greased 9-inch round cake pan
For topping: combine flour, sugar, cinnamon and pecans
Cut in butter until the mixture is crumbly
Sprinkle over coffee cake batter
Bake at 400 degrees for 20-25 minutes
Serve warm or cold
Enjoy!