October 9, 2012 by Marshall Slocum Inn
In the spirit of Fall and Halloween, the Friends of Ballard Park will be hosting the 10th Annual Ballard Park Pumpkin Tour.  Pumpkins decorated by various members of the community including school groups, community groups, artists and others, will be displayed along the trails of Ballard Park on October 13th from 4:30 to 9pm.  Parking will be available at Rogers High School, which is located across from the park.  Ballard Park is Newport's only Nature Preserve, and this event brings in thousands of people every year.   It is free and open to the public. It will be held rain or shine and guests are advised to bring flashlights to help guide themselves along the trails.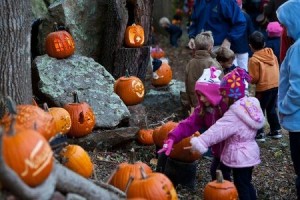 The week before the Tour, pumpkin carving parties are held across Aquidneck Island in preparation for the showcase.  Pumpkins range from simple jack-o-lanterns, to elaborate carvings.  After the Tour, before cleanup on Sunday the 14th, the public is invited to come and take the pumkpins home to display for themselves.  This is a great event that brings the community together, and keeps the public interested in maintaining this 13 acre preserve.
October 3, 2012 by Marshall Slocum Inn
So this weekend is the International Oktoberfest here in Newport.  I thought it would be fitting to have a recipe involving beer for you all to make and enjoy whether or not you're able to celebrate downtown.  This is a Bed & Breakfast, though, so I was hoping for a recipe your could enjoy for breakfast, but most recipes involving beer are for stews or chicken and what not.  There's always beer bread, but thats kind of predictable.  Thankfully, I found something involving beer for the most important meal of the day, so for all you beer lovers who want to bring some beer into your breakfast, here's a recipe for Beer Coffee Cake.
Ingredients:
2 cups all-purpose biscuit mix
1/2 cup sugar
1/2 teaspoon ginger
2/3 cup beer
1 egg, slightly beaten
Topping:
1/2 cup flour
1/3 cup sugar
1 teaspoon cinnamon
1/3 cup butter
1/4 cup chopped peacans
Directions:
For coffee cake: in a bowl, combine biscuit mix, sugar and ginger
In a separate bowl, combine beer and egg
Combine wet ingredients with dry ingredients, stirring lighly, just until moistened
Pour mixture into a greased 9-inch round cake pan
For topping: combine flour, sugar, cinnamon and pecans
Cut in butter until the mixture is crumbly
Sprinkle over coffee cake batter
Bake at 400 degrees for 20-25 minutes
Serve warm or cold
Enjoy!