August 15, 2014 by Marshall Slocum Inn
Usually wine isn't the first thing that comes to mind when people think of Newport.  However, if you've already hit the mansions, Cliffwalk, Ocean Drive and the downtown wharfs, or are a big wine enthusiast, the Newport County wine tour might be for you.  Newport Vineyards, Greenvale Vineyards and Carolyn's Sakonnet Vineyards each offer something a little bit different and are a perfect way to spend an afternoon.
First stop on the Newport County wine tour is Newport Vineyards, located at 909 East Main Road in Middletown.  This vineyard was originally planted in 1977 with the goal of preserving agricultural land from rapid development by producing fine wines.  Since the 70's it has grown to 60 vineyard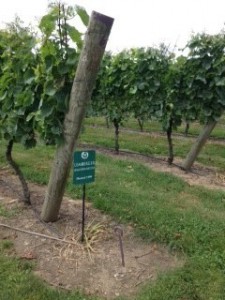 acres under the ownership of John and Paul Nunes.  Their store is open year round, 7 days a week, and they offer vineyard tours daily.  They have an extensive wine list ranging from their gold medal Great White to Newport Merlot.  They also have sparkling wines, dessert wines and their very own Cider, Rhody Coyote.
Next on the Newport County wine tour is Greenvale Vineyards, located at 582 Wapping Road in Portsmouth.  Greenvale Farm has been in the same family since 1863 and is listed on the State and National Registers of Historic Places.  Their goal is to produce great wines while maintaining a piece of American history.  They have 24 acres of grapes and produce about 7 types of wine including Skipping Stone White and Rosecliff Pinot Gris.  They are open daily year round for tastings and offer guided tours once a day at 2pm.
The last stop on the Newport County wine tour is Carolyn's Sakonnet Vineyards, located at 162 West Main Road in Little Compton.  This vineyard was founded in 1975 on historic land and has 150 acres of land, 36 of which are used for the production of grapes.  Their wine includes Rhode Island Red, Blessed Blend and Sirius, among others.  They are open 7 days a week and have 3 tours daily.
Visit one, or make a day of it and spend the day visiting all three.  Just remember, to be safe and have a designated driver!
June 22, 2013 by Marshall Slocum Inn
Greenvale Vineyards is located five miles from Newport, RI, along the Sakonnet River in Portsmouth.  Greenvale is one of three Vineyards in Newport County and is committed to producing fine wines as well as conserving open space.  Listed on the State and National Registers of Historic Places, this farm has been owned by the same family since 1863.  In the beginning, this land was intended to be a 50 acre, self sustaining, family run operation.  The combination of water, rich soil and temperate climate make Aquidneck Island the perfect place for farming and growing grapes for wine production.
Greenvale's mission in simple: they want to maintain their historic farm by producing world class wines and selling them from their Tasting Room, which is a restored stable, as well as various locations in Rhode Island and Massachusetts.  At the Vineyard, they provide recreation and education to visitors while also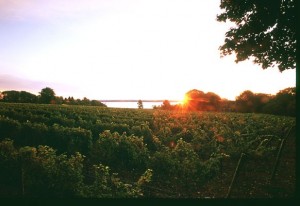 focusing on the preservation of beautiful buildings and the conservation of open space.
Cortlandt and Nancy Parker, fourth generation farmers began growing grapes as a hobby in the 1960's.  About 20 years later, they recognized the pressure that farm land was facing on the Island and decided to develop a commercial vineyard in order to have a viable farming operation.  They started growing their grapes for Sakonnet Vineyard, located in Little Compton, across the river.  In the 90's, with the help of their daughter and her husband, the Parkers set out to develop Greenvale's own wine after hearing that their fruit was "too good" and should be produced under a Greenvale label.  In 2000, the Stable at Greenvale Farms was restored, which allowed the farm and vineyard to be open for tours, tastings and music.
Greenvale produces 3, 500 cases of wine annually from grapes grown on 24 acres of farmland.  All the harvesting is done by hand and the wine is produced right on Aquidneck Island and processed the old fashion way, in a basket press.  Greenvale Vineyards produces seven types of wine including: Cabernet Franc, Chardonnay Select, Greenvale Chardonnay, Elms Meritage, Greendale Vidal Blanc, Skipping Stone White and Rosecliff Pinot Gris.