Greenvale Vineyards is located five miles from Newport, RI, along the Sakonnet River in Portsmouth.  Greenvale is one of three Vineyards in Newport County and is committed to producing fine wines as well as conserving open space.  Listed on the State and National Registers of Historic Places, this farm has been owned by the same family since 1863.  In the beginning, this land was intended to be a 50 acre, self sustaining, family run operation.  The combination of water, rich soil and temperate climate make Aquidneck Island the perfect place for farming and growing grapes for wine production.
Greenvale's mission in simple: they want to maintain their historic farm by producing world class wines and selling them from their Tasting Room, which is a restored stable, as well as various locations in Rhode Island and Massachusetts.  At the Vineyard, they provide recreation and education to visitors while also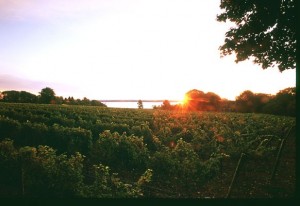 focusing on the preservation of beautiful buildings and the conservation of open space.
Cortlandt and Nancy Parker, fourth generation farmers began growing grapes as a hobby in the 1960's.  About 20 years later, they recognized the pressure that farm land was facing on the Island and decided to develop a commercial vineyard in order to have a viable farming operation.  They started growing their grapes for Sakonnet Vineyard, located in Little Compton, across the river.  In the 90's, with the help of their daughter and her husband, the Parkers set out to develop Greenvale's own wine after hearing that their fruit was "too good" and should be produced under a Greenvale label.  In 2000, the Stable at Greenvale Farms was restored, which allowed the farm and vineyard to be open for tours, tastings and music.
Greenvale produces 3, 500 cases of wine annually from grapes grown on 24 acres of farmland.  All the harvesting is done by hand and the wine is produced right on Aquidneck Island and processed the old fashion way, in a basket press.  Greenvale Vineyards produces seven types of wine including: Cabernet Franc, Chardonnay Select, Greenvale Chardonnay, Elms Meritage, Greendale Vidal Blanc, Skipping Stone White and Rosecliff Pinot Gris.