The Newport Mansions are filled with the history of the wealthy families who lived in them.  Alva Vanderbilt, later Alva Belmont's story is the one that thrives behind the heavy walls of Marble House.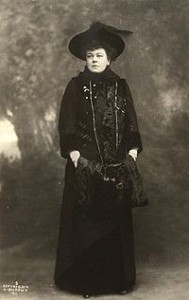 Alva was born on January 17th, 1853 as Alva Ertskin Smith, in Mobile, Alabama.  She was the daughter of a cotton broker.  After the Civil War, her family moved to France, where she was educated.  Alva returned to the States in the 1870's with her mother and sisters and settled in New York City.  She met William K. Vanderbilt at the White Sulphur Springs and agreed to marry him.  Alva played a major role in raising the Vanderbilts status in the New York elite, starting with commissioning Richard Morris Hunt to design their Fifth Avenue Mansion.
In 1888, Alva and William decided to join the Newport summer colony. Alva again went to Richard Morris Hunt to help create Marble House, which was inspired by the Petit Trianon at Versailles.  It took 4 years and $11 million dollars to complete and on August 19th, 1892, they opened Marble House to their first guests.  Unfortunately, Alva was not happy in her marriage and her and William divorced in 1895.  She was given ownership of Marble House.  After Alva remarried to Oliver Hazard Perry Belmont, Marble House was closed and she moved down the street to Belcourt Castle.
After Belmont's death in 1908, Alva became a dedicated suffragist.  She put herself and her fortune towards the woman's rights movement.  She founded the Political Equality Association in New York City, reopened Marble House in 1909 to raise money for the women's suffrage movement, and traveled to England to attend rallies.  She focused on the Congressional Union for Woman Suffrage, later the National Woman's Party, in 1914 and served on the board, using Marble House for events and headquarters for a while.  After woman won the right to vote she took over the leadership of the National Woman's Party, helping to establish a new headquarters in Washington, D.C. with her wealth.
Alva sold Marble House to Frederick H. Prince of Boston shortly before her death in 1933.