What's better than a nice relaxing evening, sitting on the porch, drinking a nice glass of wine after a busy day of cliff walking and mansion visits?  For many of our guests the answer to that is, nothing.  While there is no lack of liquor stores, you may find visiting the source to try some local wines more appealing.
The seeds of Newport Vineyards were planted in 1977 in a field that overlooks the Rhode Island Sound.  The goal of the planters was to produce wine in order to save precious agricultural land from development.  Aquidneck Island has one of th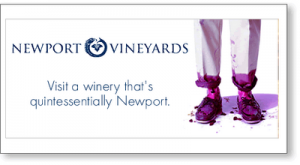 e best growing climates, allowing for a long, cool growing season for the grapes.  These first grapes were planted by Captain Richard Alexander who later teamed up with the Nunes family to build a winery in 1988.  That same year their first vintage was produced.  In 1995, When Alexander retired from wine making, the winery was aquired by John and Paul Nunes.  It was then that they established the brand "Newport Vineyards", which now encompasses 60 vineyard acres.  Newport Vineyard wines have won many awards throughout the years and the most popular wine is their "Great White".  They have a large selection of white, red, blush, dessert, sparkling, and reserve wine, as well as their own brand of hard cider called "Rhody Coyote".
Newport Vineyards is open 7 days a week from 10am to 5pm (Monday-Saturday), 12pm to 5pm (Sunday), with summer hours extending to 6pm starting Memorial Day weekend.  They offer guided tours of the vineyard at 1pm and 3pm Sunday-Friday and hourly on Saturdays between 11am and 4pm.