August 30, 2015 by Marshall Slocum Inn

The Preservation Society has been working hard to put together a new exhibition at Rosecliff for this fall and winter.  Newport & Her Southern Sisters: Three Centuries of Art & Design, will be showcased on the second floor of Rosecliff and is included as a part of the regular mansion tour.  It will be on display and open for visitors starting on September 5th, ending on January 3rd.  This exhibition will take guests on a three century long journey exploring the relationship between Newport and the South.
Through trade, tourism and marriage, Newport and the South have formed a close bond throughout time.   Southern woman who married northern gentlemen helped create the Newport that we know today – a New England resort town filled will opulent mansions, history and sailing.
Southern Sisters will cover four different time frames including: the colonial period, the antebellum period, the post Civil War era & the Gilded Age, and the early 20th century.  The Colonial period will be represented with items such as an 18th Century Mahogany chest which will be displayed in two pieces (the way it would have been stored on a ship being sent to a southern market).  The Antebellum exhibit will be a parlor showing how boarding houses paved the way for hotels and eventually private cottages built by Southerners in a Post-Civil War Newport.  The 20th century exhibit will focus on Newporters looking for warm inspiration from the style of Palm Beach.
Items on display in the Southern Sisters exhibition include never before seen ballgowns, portraits, silver, and furniture.  Items showcased will be from the Preservation Society's collections and houses as well as from other museums and private collections with ties to Newport and the South.
June 14, 2013 by Marshall Slocum Inn
The Preservation Society of Newport is hosting its 18th Newport Flower Show from June 21st to the 23rd at Rosecliff Mansion.  This year, the theme is Jade: Eastern Obsessions, which will take attendees on an exotic journey through Far Eastern traditions and beauty.  Floral designer Hitomi Gillian will be sharing her skills on the latest techniques and designs while Harriett Henderson will be there to share her experiences throughout the Far East and how Western gardens have been influenced.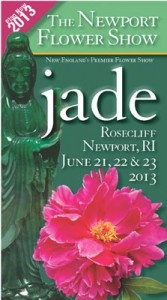 The weekend kicks off with the Opening Night Cocktail Party held on Friday, June 21st at Rosecliff Mansion.  The cocktail party lasts from 6pm to 9pm.  Guests can enjoy fresh floral arrangements, "horticultural extravaganzas," a cocktail buffet and shopping.
As you enter the Moon Gate into Rosecliff on Saturday and Sunday, you will be greeted by "zen-full" inspired gardens.  There are a variety of events happening throughout the weekend to keep you entertained and enjoying the flower show.  Lectures and Demonstrations will be happening throughout the weekend and will cover topics such as; Chinese Brush Painting, Florals inspired by Far East Traditions, the Spirit of Jade in Newport Landscapes, "Asian Small Bites," A Tree Tour of the Elms and Chepstow, Jade Garden Plants, and many more.  There is also shopping at the Oceanside Boutiques, which is an anticipated Newport tradition. Garden accessories, clothing, gifts, jewelry and decorative items will be available for sale.

April 1, 2013 by Marshall Slocum Inn
Only in Newport can you walk through centuries of American life in an afternoon.  Each house you visit is an authentic icon of one of the great eras of American history.  Hunter House was here when the Battle of Bunker Hill was fought; Chateau-sur-Mer saw the age of global commerce by American clipper ships like Flying Cloud; and The Breakers opened as the Vanderbilt's latest achievement in the era in which railroads revoultionized the nation much the way jetliners and the internet would do a century later.
Five remarkable audio tours bring you a new and unique perspective on the lives of the people who lived and worked in the grand mansions of Newport.  Based on personal diaries, letters, records, and oral histories, these audio tours offer the personal stories of the men and women who lived in each house and the household staff who cared for them.
Explore the Breakers, Marble House, The Elms, and Rosecliff at your own pace with state of the aret digital audio players.  At The Breakers, you can choose from the main audio tour or a Family tour, which piques the imagination of youngsters and their parents alike by brining the house, its furnishings, and even its sculpture to life as never before.
Hunter House – Pass through the front door of Hunter House and you step back inot Newport's 18th century Golden Age, the era before the American Revolution.  It was the home of a merchant, ship owner and colonial deputy, which later became the Revlutionary War headquarters of the French Navy.  You'll see up close a great collection of exquisite colonial furniture, created by legendary Newport craftsmen like the Townsends and Goddards.
Chateau-sur-Mer – A product of the American-China Trade and one fo America's great Victorian houses, Chateau-sur-Mer was home to three generations of the Wetmore family.  You'll see hand carved Italian woodwork, Chinese porcelains, Egyptian and Japanese Revival stenciled wallpapers, and rare trees from as far away as Mongolia.
The Breakers – The Breakers is a surviving jewel of the New York Central Railroad fortune, making a statement about the global sensibilities of the Vanderbilt family.  The 70-room summer estate of Cornelius Vanderbilt II includes a two and a half story high Great Hall and a Morning Room adorned with platinum leaf wall panels.  Its interiors feature rare marble, alabaster, and gilded woods throughout.
The Elms – The summer retreat of coal magnate Edward Berwind and his wife Herminie, The Elms was a thoroughly modern house in 1901.  So technologically advanced for its time it appeared to work as if by magic, it also house monumental art works, including wall sized Venetian paintings, Chinese lacquer panels and tapestries.
Rosecliff – The newest Newport Mansions audio tour brings Rosecliff's history and romance to life with never before told stories and first person remembrances of its colorful families.  From Tessie Oelrichs, who built this fantasy in terra cotta, to the Monroes of New Orelans, the last family to call Rosecliff home, you'll discover the very human story of Newport's great party house.
Marble House – Created by Alva Vanderbilt and Richard Morris Hunt and inspired by the Petit Trianon at Versailles, Marble House contains 500,000 cubic feet of marble.  Intended as an ultimate statement of Gilded Age privilege, only a few years later it hosted Alva's "Votes for Women" rallies on the back lawn.  Hear the words of Alva Vanderbilt, her daughter Consuelo and many more, brought to life in the award winning audio tour.
Notes: This text was taken from the Newport Mansions Explore the American Story Brochure
June 19, 2012 by Marshall Slocum Inn
Newport has a variety of festivals happening all year round, and coming up this weekend, June 22-24th is the Newport Flower Show, held at Rosecliff Mansion.  This years theme is Salsa – A Celebration of Latin Cultures, so the colorful designs and exotic plants will be inspired by Latin music and dance.  Gardners of all levels participate in this event to show off their creativity with the colors and design of their flower arrangements.  Rosecliff is the perfect backdrop for this event and is a beautiful Mansion to visit any time of the year, not just during the Flower Show.
The Opening Night Cocktail party is held on the 22nd and there will be food and wine and all kinds of surprises to kick off this wonderful event.  The following days will be filled with flower designs and shopping at the Oceanside Boutiques and Gardeners' Marketplace.  All proceeds of this event go to the Preservation Society for the restoration and maintenance of the land and gardens.