October 3, 2014 by Marshall Slocum Inn
In my opinion, the best thing about fall is all the fun outdoor activities available, such as hay rides, scenic drives to look at the changing leaves and of course apple and pumpkin picking.  Newport County has so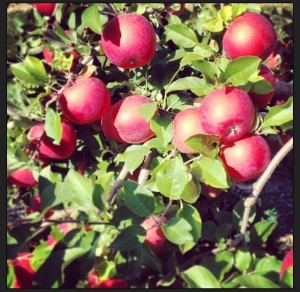 me great places for those who like to pick their own apples when the trees are full of fruit, or select the perfect pumpkin in a full patch. Whether you're picking apples for pie or pumpkins for the perfect Jack-o-lantern, these orchards will have what you're looking for.
Rocky Brook Orchards – (977 Wapping Road, Middletown) Rocky Brook Orchards is a family run orchard open on the weekends for picking.  They have over 60 varieties of apples, many of which are unique, and are constantly growing new ones.  They also have pears and quince available for picking. Special reservations for weekday picking can be made.
Sweet Berry Farm – (19 Third Road, Middletown) Sweet Berry Farm sits on 100 acres of land and includes plenty of seasonal pick-your-own fruits as wells as a farmers market and café.  Apples are available for picking through October as well as peaches and pumpkins.
Some other orchards in the area that offer apple and pumpkin picking are: Old Stone Orchard (33 Colebrook Road, Little Compton), Quonset View Farm (pumpkins) (895 Middle Road, Portsmouth) and Hodgkiss Farm (pumpkins) (305 North Road, Jamestown)