August 31, 2013 by Marshall Slocum Inn
Since it's completion in 1852, Chateau-sur-Mer has undergone a major transformation.  Chateau-sur-Mer was first built by Seth Bradford, for William Shepard Wetmore, as a romantic Italianate villa.  Wetmore wanted something a little more than the ordinary summer home and therefore had his made of rough-cut, Fall River granite, giving it a more rugged look, which wasn't found in any of the other seaside villas.  Though smaller than it is now, it was expensive and substantial enough to be considered palatial.  It became a turning point in domestic architecture and triggered an architectural competition among summer residents.
Wetmore was a great entertainer and was featured in the New York Times for his "fete champetre," held in 1857, and attended by over 3,000 guests.  This party was the "start" of Chateau-sur-Mer.  Unfortunately, when Wetmore died in 1862, his estate was passed to his son, George Peabody Wetmore, who undertook a major rebuilding of his fathers estate.
Richard Morris Hunt was the architect hired for the project.  He altered the appearance of the Chateau so much that many believed the original had been torn down and replaced.  His revisions began in 1871.  He switched

 the main entrance from the west side to the north, built a grand carriage entrance, and replaced the gambrel roof with a steeper mansard roof.  Hunt tore out the old service wing and replaced it with a billiards room, added a wing on the north side for a service area and new dining room, and created a dramatic entrance hall three stories high with balconies, skylights and an imperial staircase.
Several years later he continued the transformation of Chateau-sur-Mer and added another floor above the dining room and service wing as well as raising the mansard roofs.  Critics have since used words such as "stern" and "severe" to describe this impressive mansion.
George Peabody Wetmore died in 1921 and left the estate to his two daughters, Edith and Maude, who began adding some softer touches to the very masculine residence.  The house gradually filled with contemporary paintings and drawings and Chinese porcelain.  The furnishings of the house were auctioned off after the death of Edith Wetmore in 1968, many of which were purchased by the Preservation Society, whom also purchased the estate.
July 14, 2013 by Marshall Slocum Inn
There are a lot of outdoor activities in Newport, RI, including a variety of different scenic walking routes.  Most people head straight for Cliff Walk to enjoy the views of rugged cliffs along the water on one side, and the magnificent mansion on the other, however, the Sachuest Point National Wildlife Refuge offers views that are just as grand.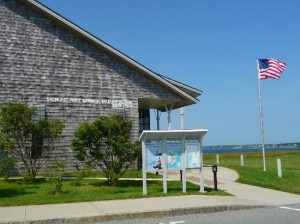 Sachuest Point occupies the peninsula between the Sakonnet River and the Rhode Island Sound, just past Second Beach in Middletown, RI.  A newly renovated visitors center welcomes you to the 242 acre Wildlife Refuge.  There are over 2.5 miles of nature trails with various viewing platforms along the way.  This Refuge is popular for saltwater fishing and has the largest winter population of harlequin ducks on the East Coast. The refuge supports over 200 bird species in its saltmarsh and beach strand habitats as well as its upland shrub dominated land.  Some notable birds include: peregrine falcons, northern harriers and snowy owls.
This land started out as farming land and was later used as a horse racing area.  During World War II, the Navy used this land as a communications site and rifle range.   In 1970, the Sachuest Point National Wildlife Refuge was established after a donation from the Audubon Society of Rhode Island.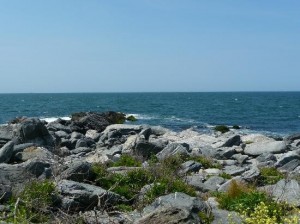 July 6, 2013 by Marshall Slocum Inn
Located on Ocean Drive, Brenton Point State Park is the perfect place to spend a relaxing afternoon in Newport.  Brenton Point is located right where Narragansett Bay meets the Atlantic and has one of the greatest views in town. Picnicking, hiking and fishing are some of the activities that can be enjoyed here, as well as simply sitting back and enjoying the cool ocean breeze.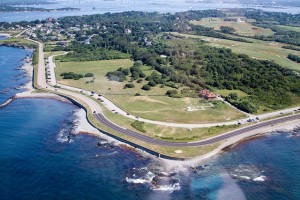 Brenton Point's history dates back to early Rhode Island history. Brenton Point State Park was named after Governor William Brenton, a religious refugee from the Massachusetts Bay Colony.  After living in Boston for four years he was "vigorously excused" in 1637 and spent time in Anne Hutchinson's Portsmouth community before settling at the southern end of the Island in 1639.  He divided his land, which today would not only be Brenton Point, but Castle Hill, Hammersmith Farm and Fort Adams, into two farms.  Brenton understood that this area was very good for raising sheep (one of Rhode Island's earliest economic export), and eventually he was raising 11,000 sheep.  Brenton not only became a prosperous land owner, but also a prominent political figure in the colony.
William Brenton became the governor of Rhode Island and served from 1666 to 1669.  Brenton happily took chances in annual elections and held office under the Charter of 1663.  He died in 1674.  Two years after Brenton's death, Newport faced its first real challenge when the Wampanoag Indian Chief, Metacomet, united Indian tribes to expel white settlers in the mainland Massachusetts and Rhode Island towns.  Fortunately, Newport and Portsmouth avoided massacres and being burned to the ground, and instead took in refugees from the areas that did.  During the time that followed, Brenton Point and Castle Hill held their guard against pirates who were also seeking refuge in Narragansett Bay.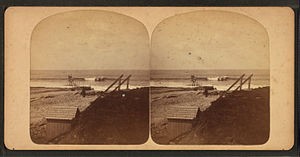 In the first half of the eighteenth century, Brenton point became a "portal" to the Privateers (commercial ships ready to wage war on England's enemies).  In 1776, Newport was a captured town, behind enemy lines, in the American Revolution.  Cannons at Brenton Point and Castle Hill defended any attempts of the Americans to free the inhabitants under British garrison control for three years.
When the war was finally over, Newport and the surrounding farms were devastated for decades.  Eventually the city was rescued by those seeking summer fun.  Farm houses from before the civil war were transformed into guest houses.  Wealthy industrialists from New York and Pittsburg began building mansions along Cliff Walk and Ocean Drive.  Theodore M. Davis from Boston built a house known as "The Reef" in 1885 at Brenton Point, which became famous for its walled gardens and green houses.  The estate took up eighteen acres, and after Davis' death it went to Mr. and Mrs. Milton Budlong who used it until 1941.
During WWII, the site was one of the gateways to Narragansett Bay, making it an ideal location for coastal artillery battery.  The house was returned to the Budlongs in 1946, but remained unoccupied and thus continued to deteriorate, until finally, a fire destroyed the villa in 1960.  In 1969 the site became "open space property ," under the control of the State of Rhode Island as part of the Green Acres Program.  It became a Brenton Point State Park in 1976.
Source: http://www.riparks.com/History/HistoryBrentonPoint.html
June 14, 2013 by Marshall Slocum Inn
The Preservation Society of Newport is hosting its 18th Newport Flower Show from June 21st to the 23rd at Rosecliff Mansion.  This year, the theme is Jade: Eastern Obsessions, which will take attendees on an exotic journey through Far Eastern traditions and beauty.  Floral designer Hitomi Gillian will be sharing her skills on the latest techniques and designs while Harriett Henderson will be there to share her experiences throughout the Far East and how Western gardens have been influenced.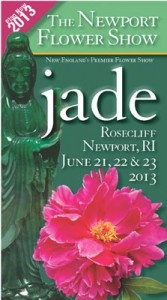 The weekend kicks off with the Opening Night Cocktail Party held on Friday, June 21st at Rosecliff Mansion.  The cocktail party lasts from 6pm to 9pm.  Guests can enjoy fresh floral arrangements, "horticultural extravaganzas," a cocktail buffet and shopping.
As you enter the Moon Gate into Rosecliff on Saturday and Sunday, you will be greeted by "zen-full" inspired gardens.  There are a variety of events happening throughout the weekend to keep you entertained and enjoying the flower show.  Lectures and Demonstrations will be happening throughout the weekend and will cover topics such as; Chinese Brush Painting, Florals inspired by Far East Traditions, the Spirit of Jade in Newport Landscapes, "Asian Small Bites," A Tree Tour of the Elms and Chepstow, Jade Garden Plants, and many more.  There is also shopping at the Oceanside Boutiques, which is an anticipated Newport tradition. Garden accessories, clothing, gifts, jewelry and decorative items will be available for sale.

May 17, 2013 by Marshall Slocum Inn
The Atlantic Cup – the only dedicated Class 40 sailing race in the US – will be leaving New York on May 18th and heading to Newport for an inshore grand prix, Memorial Day weekend (May 25th and 26th).  The race started on May 11th in Charleston, South Carolina, where competitors began their race to New York City, and will soon head to Newport.
A Class 40 yacht is a "monohull" racing yacht with a maximum length of 40 feet. Racers can create their own boat designs as long as they do not exceed the maximum overall size for their class. Designers can focus on technical aspects of the boats such as type of sail and mast height and weight, without being restricted.  This makes for very competitive racing that is extremely close over long distances.  Class 40 was established in 2004 and is designed for short-handed offshore conditions and will guarantee fast, competitive racing.
The Atlantic Cup includes both off-shore and in-shore races, which ensures that the winner is a complete sailor.  This race tests competitors on two different sailing disciplines, ocean racing and buoy racing.  Having two different races also helps level the field between different yacht designs, again making it a close competition.

This is the third time the Altantic Cup has come to Newport and it'll be here from May 20th to 26th.   From May 20th to the 24th, the racing boats will be open for viewing from 11am to 5pm at the Newport Harbor Hotel Marina.  On the 22nd, everyone 21 and older is invited to celebrate with all the Atlantic Cup crew and teams at the International Yacht and Athletic Club.  The party starts at 7pm. The actual race takes place at Fort Adams on Saturday, May 25 and Sunday May 26th between 11am and 4pm.  The finish line is just off the north lawn of Fort Adams and there will be commentary, food and vendors, making Fort Adams the place to be during race time.  To wrap everything up, The Landing is hosting a "Prize Giving Party" from 6pm to 9pm on the 26th.