March 19, 2013 by Marshall Slocum Inn
It is amazing to me that after over 15 years of living in Newport that I still stumble upon a new hidden treasure that Newport has to offer.  Sometimes these treasures are just around the corner from the Inn and other times a discovery that my wife and I make on one of our many walks around the city.  Following is a list of some of the less obvious attractions/things to do/places to eat on Aquidneck Island that may not be included in the typical Newport guidebook.  Most locals know about these items but this post is more for our guests and visitors to Newport.
Southern End of the Cliff Walk/Rejects Beach – The most beautiful part and less traveled part of the Cliff Walk is the Southern end.  On Summer days when town and the beaches are packed full of people you can hike this portion of the Cliff Walk and see only a few people.  The same goes for Rejects Beach which is located near the end of the Cliff Walk and only a few hundred yards from the famed Bailey's Beach Club.  To get to both of these areas just take the trolley which is a short walk from the Inn.     www.cliffwalk.com
Sachuest Point – The Cliff Walk understandibly tends to get the most attention as a great outdoor activity during all four seasons in Newport.  However, if you enjoy being outdoors Sachuest Point is a great seaside walk overlooking second beach in Middletown.  A great place for birders, Sachuest Point also has free and ample parking.  Visit the Sachuest Point website for more information.
Newport International Polo Series – Occuring every Saturday starting in June, the Newport International Polo Series features the U.S.A. versus a multitude of International teams including such far away places as Ghana.  Grab some wine and cheese and watch the entertaining game of polo field side.  www.nptpolo.com
Pineapples On The Bay – Located at the Hyatt Hotel, Pineapples has one of the best views in Newport.  Unimpeded views of the Newport Bridge and the harbor can be had from any of the many outdoor tables.  Plus, Tuesday is half price appetizers and there is free validated parking.   Visit the Pineapples website for more information.
Castle Hill – Castle Hill Inn and Resort is located on Ocean Drive and situated right at the entrance to Newport harbor.  A huge wedding venue with room rates climbing into the $700-$800 range during peak times, Castle Hill is a great place to grab an afternoon cocktail or a dinner priced lunch.  Dinner, although top notch, should be avoided unless you plan to dine early.  Why pay the top prices if you cannot see the water?
March 30, 2012 by Marshall Slocum Inn
Recently my wife, myself and a few of our friends dined at the Thames Street Kitchen.  Located in the lower Thames Street area of Newport in the fifth ward, the restaurant is in an unassuming building that has housed many different types of businesses.  The owners of tsk, Chad, Tyler, Julia and Anna have done a fantastic job at transforming the property into a comfortable and lively space.  Most tables have a view into the kitchen where Chad and Tyler work their magic and dining their almost felt like being at home.  If you have a large group I would recommend reserving and asking for the large country table that has a front row view of the kitchen.
The food at tsk is based on the ever growing trend of local farm to table cooking and Chad and Tyler do not dissapoint.  The menu changes daily and portions were perfect, much unlike lots of restaurants these days you don't leave feeling overstuffed.  Rather, you leave wanting to come back for more.
We dined at tsk during the Newport Restaurant Week which features three course dinners for $30.  On regular nights the pricing for entrees is anywhere from $25-$35 but the best value is the BYOB option which can save lots of money.
Julia and Anna ran the floor like unassuming professionals and the service was friendly and effecient.  They truly seemed like they enjoyed being there and even brought us out more homemade cookies right out of the oven after we devoured the first batch.
I can truly say that tsk is one of our favorite restaurants in Newport and hope that our guests can make it down to lower Thames Street to enjoy this new gem.
June 4, 2010 by Marshall Slocum Inn
As a Newport inn, we are always keeping our guests up to date with exciting activities happening in our sea-side town.  This weekend is Knorr's Great Chowder Cook-Off!  The greatest international chowder championship will officially commence the start of the summer season on Saturday, June 5th.  You can go and enjoy endless samples of  chowder prepared by chefs from all around the globe.  The most popular around here is usually the Rhode Island clear clam chowder of course, but some of the other varieties might just surprise you!  Restaurants are competing for cash-clams in three categories: Clam, Seafood, and Creative, as well as a Clam Cake competition.  Bring your appetite and get ready to vote for the best chowders!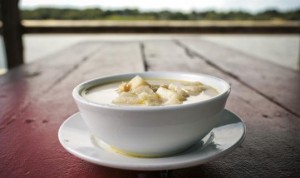 The event will be rain or shine on Saturder, June 5th from 11am-6pm right on the waterfront at Newport's Yaughting Center, about a 10 miute walk from Marshall Slocum Inn!
March 31, 2009 by Marshall Slocum Inn
One of the most popular and value oriented bed and breakfast packages that we offer at our Newport Inn is the Gilded Getaway Package.  The package was first developed by the previous owners of this Newport Bed and Breakfast and gained it's original popularity from the lobster dinners offered on the Inn's back deck.  After purchasing the Inn 5 years ago we continued to offer the Wednesday night lobster dinners but last year decided to change the venue for the lobster dinner to an actual Newport Rhode Island Restaurant.  Now, our Newport Bed and Breakfast Package consists of the following:
1. Two tickets to tour 5 of the historic gilded age Newport Mansions.  Parking is available at all of the Rhode Island Mansions.  Some of the houses offer guided tours and others have audio tours.
2. Two tickets for a sunset sail around Newport Harbour.  Enjoy a guided tour around Narragansett Bay.
3. Dinner for two at your choice of three Newport restaurants.  Choose from french/american, new england seafood, irish pub fare.
4. Lobster dinner for two at your choice of three Newport Restaurants.  Enjoy lobster the classic way or innovatively prepared by cutting edge chefs.
5.  Three nights of Newport Accommodations at our Newport Bed and Breakfast.  A full gourmet breakfast, parking, and wireless internet is included with the package.  Choose from any one of our beautiful guest rooms.
If you have never been to Newport, Rhode Island the Newport Rhode Island Inn Mansion Package at the Marshall Slocum Inn is a great way to see the sights and sounds of our beautiful historic city on land and on sea.  The Package is a great deal, especially for those Bed and Breakfast guests that are able to travel to Newport midweek as rates during the week fall to $725 while weekend rates can go as high as $995.  In addition, the Newport Rhode Island Mansion Package is a perfect gift or anniversary idea as everything is already planned for your visit to Rhode Island.  Visit our website for reservations and more details on this great package.
March 28, 2009 by Marshall Slocum Inn
Although most of our guests at our Newport, Rhode Island Inn visit to tour the famous Newport Mansions many do not realize that there are award winning Spas and Wineries on the island.  So, two years ago, we created our wonderful Newport Spa & Wine Package in a hope to expose some of the other great resources we have close to our Newport Bed and Breakfast.  This two night Newport Bed and Breakfast Package starts with a private tour, tasting and lunch at beautiful Greenvale Vineyards overlooking the Sakonnet River.