July 12, 2012 by Marshall Slocum Inn
Cliffwalk has been one of Newport's most popular tourism spots since it was created in 1975 as a National Recreation Trail.  It's a 3.5 mile walkway along the Newport shoreline.  It begins off Memorial Boulevard, right before Easton's beach, and finishes on Bellevue Avenue, by Bailey's Beach.  There are a variety of other access points for Cliffwalk such as Ruggles Avenue and Narrangansett Avenue.  Most of the trail has easy walking conditions, but some parts are rockier, and walkers should wear proper shoes and be aware where they're walking.  There are great views of the shoreline as well as the historic architecture found in Newport.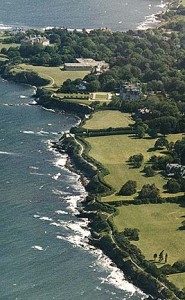 To keep your energy up while spending time at Cliffwalk, try out this coffee cake recipe to start your day!
Cliffwalk Cottage Cheese Coffee Cake
Ingredients:
3 cups all-purpose flour
2 cups sugar
1 teaspoon baking soda
1 teaspoon baking powder
3 eggs
1/2 cup butter, melted
1 cup buttermilk
1 cup cream cheese, softened
1 tablespoon vanilla extract
Filling:
1 cup sugar
1/2 cottage cheese
1 tablespoon cinnamon
Directions:
In a large bowl, combine and mix flour, sugar, baking soda and baking powder
Combine the eggs, butter, buttermilk, vanilla, and cream cheese in a mixer
Add dry ingredients to the egg mixture and combine until incorporated
Spoon half the batter into a greased and floured bundt pan
For filling, combine and mix together sugar, cottage cheese and cinnamon
Spoon filling onto the middle of the batter
Cover filling with the remaining batter
Bake at 350 degrees for 45 to 50 minutes
Enjoy!
May 28, 2010 by Marshall Slocum Inn
The Cliffwalk is one of the top attractions on this beautiful New England island.  A 10 minute walk from our Newport inn, the Cliffwalk is a 4.5 mile walk along the ocean edge cliffs of Newport that combines the natural beauty of the Newport shore line with the architectural history of Newport's gilded age.  Wild flowers, birds,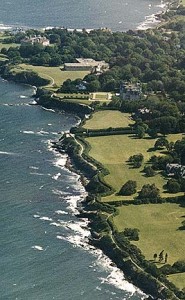 geology, and a front yard view of the magnificent mansions add to this delightful walk. The walk runs in front of some of the most famous mansions including Astor's Beechwood, Rosecliff, Marble House, The Breakers, Ochre Court on the campus of Salve Regina University, and Rough Point.
The Cliffwalk begins at Memorial Drive near Easton's Beach and winds its way along the rocky New England shoreline to the start of Ocean Drive.  The walk can be accessed from the starting and ending points of the path, Narragansett Ave, and Ruggles Ave.  Most of the walk is paved and offers beautiful vistas, tunnels, and long winding pathways overlooking the waves below.  Towards the end of the walk, the path is no longer paved and becomes a bit more challenging as you cross the rugged rocks at the water's edge.  The views are absolutely breath taking.
Many guests here at our Newport inn have enjoyed this peaceful walk and it is definitely a must see if you have some time to spend here on this gorgeous island!