June 4, 2010 by Marshall Slocum Inn
As a Newport inn, we are always keeping our guests up to date with exciting activities happening in our sea-side town.  This weekend is Knorr's Great Chowder Cook-Off!  The greatest international chowder championship will officially commence the start of the summer season on Saturday, June 5th.  You can go and enjoy endless samples of  chowder prepared by chefs from all around the globe.  The most popular around here is usually the Rhode Island clear clam chowder of course, but some of the other varieties might just surprise you!  Restaurants are competing for cash-clams in three categories: Clam, Seafood, and Creative, as well as a Clam Cake competition.  Bring your appetite and get ready to vote for the best chowders!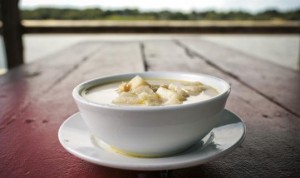 The event will be rain or shine on Saturder, June 5th from 11am-6pm right on the waterfront at Newport's Yaughting Center, about a 10 miute walk from Marshall Slocum Inn!