July 12, 2012 by Marshall Slocum Inn
Cliffwalk has been one of Newport's most popular tourism spots since it was created in 1975 as a National Recreation Trail.  It's a 3.5 mile walkway along the Newport shoreline.  It begins off Memorial Boulevard, right before Easton's beach, and finishes on Bellevue Avenue, by Bailey's Beach.  There are a variety of other access points for Cliffwalk such as Ruggles Avenue and Narrangansett Avenue.  Most of the trail has easy walking conditions, but some parts are rockier, and walkers should wear proper shoes and be aware where they're walking.  There are great views of the shoreline as well as the historic architecture found in Newport.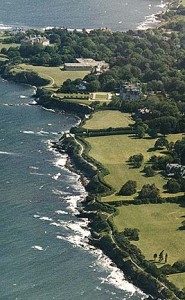 To keep your energy up while spending time at Cliffwalk, try out this coffee cake recipe to start your day!
Cliffwalk Cottage Cheese Coffee Cake
Ingredients:
3 cups all-purpose flour
2 cups sugar
1 teaspoon baking soda
1 teaspoon baking powder
3 eggs
1/2 cup butter, melted
1 cup buttermilk
1 cup cream cheese, softened
1 tablespoon vanilla extract
Filling:
1 cup sugar
1/2 cottage cheese
1 tablespoon cinnamon
Directions:
In a large bowl, combine and mix flour, sugar, baking soda and baking powder
Combine the eggs, butter, buttermilk, vanilla, and cream cheese in a mixer
Add dry ingredients to the egg mixture and combine until incorporated
Spoon half the batter into a greased and floured bundt pan
For filling, combine and mix together sugar, cottage cheese and cinnamon
Spoon filling onto the middle of the batter
Cover filling with the remaining batter
Bake at 350 degrees for 45 to 50 minutes
Enjoy!