June 8, 2012 by Marshall Slocum Inn
The Newport Bermuda Race is a biennial event, held during even numbered years.  Seeing as it's 2012, this 635 nautical mile race is back on June 15, 2012!  The race starts off Castle Hill Light in Newport and follows the unpredictable seas, lasts between 3 and 5 days, and ends in Bermuda.  The part of the Atlantic that this race course goes through is known for its challenging weather, especially the Gulf Stream, where the currents are very strong.  Over 180 boats, within 5 different divisions, will set sail in the attempt to finish first, in order win one of the coveted trophies handed out during a special ceremony held at the Bermuda Government House.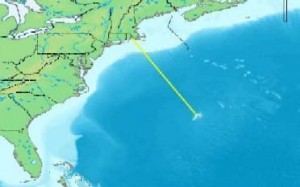 The Newport Bermuda Race was started in 1906 as the first ocean race for amateur sailors in "normal" boats.  Since its beginning, it has inspired numerous other races and has attracted thousands of boats and tens of thousands of men and women excited to challenge themselves to sail this difficult course.  Many sailors come back every other year and the record for most races participated in is 30 races.
While most of the course is in the middle of the ocean, and thus hard to watch from shore, you can watch the boats as they begin their journey.  Getting all the boat classes started takes about 2 to 3 hours so if you're interested in watching, the best place to do so would be on Castle Hill in Newport, which is off of the very popular Ocean Drive.  Who will be this years winners?!?!