May 25, 2013 by Marshall Slocum Inn
Pancakes and French Toast are great to begin with, but drizzling pure maple syrup over the top makes them that much better.  Since Rhode Island isn't known for producing the sweet treat, we've looked to New York to help us deliver an even better breakfast.
Mountain Winds Farm is a 140 acre farm nestled in the hills of Berne, NY and has been owned by the Grippin family since 1961. Today, second generation – Randy Grippin and his family are running the farm. Randy started his maple syrup production in 2005 with 50 pails and it has grown to a production with 50,000 feet of pipeline and 1,300 taps, with the capacity to make 500 gallons of syrup each spring. Although his production has grown, he still maintains the independence of a small, family owned farm, teaching his children the ways of making premium maple syrup.  Each batch is made by hand with his wood-fired evaporator, and his farm is 100% hormone, pesticide, antibiotic and GMO free.
Enjoy this delicious syrup with your breakfast at the Inn, and if you just can't get enough, we have half-pints available in our giftshop to take home.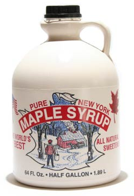 August 26, 2012 by Marshall Slocum Inn
It's Sunday, and what could be better than sleeping in and then enjoying a nice filling brunch? I'll tell you… not much.  And since it's peach season over at Sweetberry Farm, make sure to use those fresh picked peaches in this recipe for Blueberry-Sour Cream Waffles with Peaches.
Ingredients:
Waffles:
4 eggs
2 cups milk
3 ounces butter, melted
4 cups sour cream
1 teaspoon baking soda
3 teaspoons baking powder
4 cups all-purpose flour
1 tablespoon salt
3 tablespoons sugar
2 cups fresh blueberries
Topping:
5 ounces butter
1 tablespoon nutmeg
2/3 cup brown sugar
1/4 cup cinnamon
2 pounds sliced peaches
powdered sugar
Directions:
Preheat Belgian waffle iron
To make waffles: Separate eggs. Add milk, butter, sour cream, baking soda, baking powder, flour and salt to the yolks. Mix until combined. Beat egg whites until soft peaks form, add the sugar and beat until stiff.  Fold egg whites into batter mixture.
Pour 3/4 to 1 cup batter into iron
Place 10 to 12 blueberries in batter and cook until waffles are crisp and golden brown
For topping: melt butter in large skillet.  Add nutmeg, brown sugar, and cinnamon.  Add peaches and cook over medium heat until peaches are very soft
Spoon peach mixture over waffles and sprinkle with powdered sugar
(Makes 10-12 servings)
Enjoy!