October 9, 2012 by Marshall Slocum Inn
In the spirit of Fall and Halloween, the Friends of Ballard Park will be hosting the 10th Annual Ballard Park Pumpkin Tour.  Pumpkins decorated by various members of the community including school groups, community groups, artists and others, will be displayed along the trails of Ballard Park on October 13th from 4:30 to 9pm.  Parking will be available at Rogers High School, which is located across from the park.  Ballard Park is Newport's only Nature Preserve, and this event brings in thousands of people every year.   It is free and open to the public. It will be held rain or shine and guests are advised to bring flashlights to help guide themselves along the trails.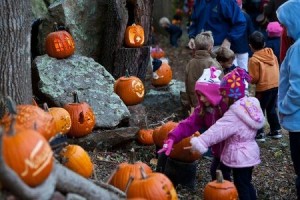 The week before the Tour, pumpkin carving parties are held across Aquidneck Island in preparation for the showcase.  Pumpkins range from simple jack-o-lanterns, to elaborate carvings.  After the Tour, before cleanup on Sunday the 14th, the public is invited to come and take the pumkpins home to display for themselves.  This is a great event that brings the community together, and keeps the public interested in maintaining this 13 acre preserve.