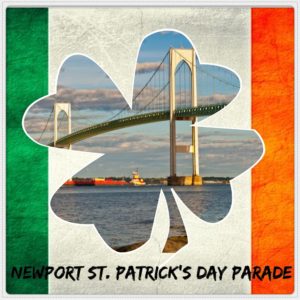 Come celebrate the luck of the Irish by attending the 61st Annual Newport Saint Patrick's Parade on Saturday, March 11th. Each year, this exciting event will be the perfect way to kick off the spring and have some Irish fun. Rain or shine, the locals and tourists come join the spirit of the holiday, and wear their green attire.
Parade Details & Activities
The Newport Saint Patrick's Parade starts 11:00am at the Newport City Hall and will carry on to Carroll Avenue at Saint Augustin's Church. It will be two hours of entertainment featuring pipe bands, marching bands, clown units, reenactment units, and owners of local, state, and regional businesses. Some of the local hero's will be marching or riding on the fire trucks. Even the boy scouts, girl scouts, local schools, non-profit organizations and more will be participating.
Most of the Newport Saint Patrick's Parade will be downtown among the bars and restaurants. So before the parade, you can join brunch spots in Newport's delicious restaurants. Maybe have an early bloody mary or a mimosa. Just make sure to have a reservation.
There will many opportunities to bar hop throughout the day in Newport and keep the stimulation going. Especially, the Irish pubs on Thames Street near the parade. Buskers, Fastnet, O'briens Pub, Celtica Public House, and Brick Alley Pub. Cash is definitely recommended for cover charges at the door live music.
Extra Family & Fun
If you want more family time, join the 10th Annual Saint Patrick's Day Family Celebration the day before the parade. You will definitely feel the Irish spirit with bag pipers, edge drumline, Irish step dancers, pirates, face painting and much more. When you walk through the door, you are being judge by "How Green am I" contest with cash prices $50, $100, and $150 plus more giveaway. Free entrée as well. 1:00 to 4:00.
After a long day celebrating the Irish holiday, there is the option of staying at our humble inn. We are only around the corner from the parade, and a ten minute walk from downtown.
Remember to wear you green gear or get pinched!