The Newport Music Festival has been around since 1969 and has produced over 2,100 concerts in a variety of venues throughout Newport, including the Preservation Society's Historic Mansions.  They have brought over 1,000 artists to the stage, including over 100 who made their American debut.  While the first Music Festival took place in 1953, the festival as we know it today didn't start until 1969, three years after the non-for profit, the Rhode Island Arts Foundation at Newport, Inc. was incorporated.
The early years of the Newport Music Festival were an important part of romantic revival and included many members of the Metropolitan Opera Orchestra.  They partnered with the Preservation Society of Newport County, which brought the music back to venues that it was created to play in.  Dr. Mark P. Malkovich III became the Festival's General Director in 1975 and remained in the position until 2008 when his son, Mark Malkovich IV assumed the role.  Dr. Malkovich became well known for introducing young international artists and showcasing emerging American artists.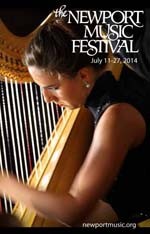 The Newport Music Festival showcases music from the Romantic era (1820-1910), but has also expanded and includes a wide variety from Bach to Bernstein. This years festival will be held from July 11th through the 27th and will include 68 concerts, about 3-5 per day.  Morning concerts will be held at 11am, afternoon at 4pm, and nighttime performances will be held at 8pm or 9pm, depending on the location.  Concerts will include chamber music, ragtime and tango and several concerts will occur as tribute to the 150th anniversary of the German composer, Richard Strauss.  Around 80 musicians from 18 countries will be performing, 30 of which will be making their Newport debuts.  The festival will open on July 11th with the Hungarian pianist, Gergely Bogányi, and will end with a two piano, two percussion ensemble "extravaganza."
Concerts will be held at a variety of locations including: Aldrich Mansion, Blithewold Mansion, the Newport Grand Events Center, Rosecliff, the Breakers, the Elms, Casino Theater, Redwood Library, CCRI, St. George's School Chapel, Saint John the Evangelist, Edward King House, Touro Synagogue and the Newport Art Museum.