The Newport Art Museum, accredited fully by the American Association of Museums, holds collections and exhibitions that reflect Rhode Island's cultural heritage and contemporary art scene.  They have been a cultural gathering place for over 100 years and have a reputation for high quality exhibitions and programs.  They are the only museum that focuses on the art and artists of Rhode Island.  They also have an art school, the Minnie and Jimmy Coleman Center for Creative Studies (founded in 1913) that encourages people of all ages to attend art classes, camps and workshops in order to explore their creativity.
The Newport Art Museum has a permanent collection of over 2,300 works of American art.  This art focuses on artistic activity from the late 19th century to the present day, as well as works that emphasize the role Newport and New England artists had in the development of American art.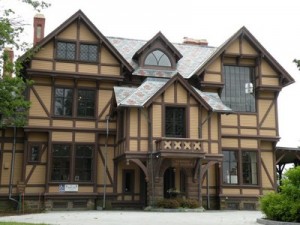 Some of the artists displayed in the Newport Art Museum are:  19th and 20th century artists William Trost Richards, John Frederick Kensett and George Bellows, impressionists, Howard Gardiner Cushing and Helena Sturtevant, and contemporary artists such as Dale Chihuly, Italo Scanga, Aaron Siskind and Toots Zynsky, among many others.
Special Exhibitions are taken from the permanent collections as well as other museums and private collections.  They display a variety of themes and are accompanied by special programs.  Three current exhibitions are: Elizabeth Congdon: Heaven and Earth (May 10th-August 12th), Mary Chatowski Jameson: Marine Botanicals (May 17th-Spetember 1st), Corrine Colarusso: Magic Gold, Full Sun (May 17th-Septemeber 7th), and "Very Simple Charm," the Early Life and Work of Richard Morris Hunt in Newport (May 31st-September 14th).
The Newport Art Museum hosts a variety of events throughout the year including gallery nights and talks, Murder at the Museum nights, lectures, lunch with artists, a variety of workshops and more.