The Isaac Bell House sits on the corner of Bellevue Avenue and Perry Street and is one of the best examples of shingle style architecture in the nation.  It was built between 1881 and 1883 by McKim, Mead and White as the summer residence for Isaac Bell Jr.  Bell was a wealthy cotton broker and the brother-in-law of the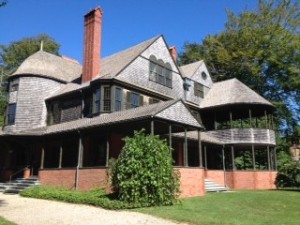 publisher of the New York Herald, James Gordon Bennett.
This house blends English Queen Anne with New England colonial.  The architects used Oriental design influences which created a new "vernacular" style, known now as "shingle style."  The Isaac Bell House helps illustrate the evolution of Newport as a premier place for great design and a distinctly American style of architecture.  This house also features Arts and Crafts interiors, an open floor plan and Japanese inspired columns.
This house was passed through a variety of owners before being purchased by the Preservation Society of Newport County in 1994.  The house was designated as a National Historic Landmark in 1997.