There are a variety of boat tours that leave from the Wharfs, located only a short, 10 minute walk from our Inn.  Located on Bannister's Wharf, Classic Cruises of Newport offers two different cruise options: The Madeleine and The Rum Runner II.  Each offers a unique cruising experience for guests.  Enjoy the excitement of taking to the water in the Sailing Capital of America, where you will enjoy great views of Newport Harbor and Narragansett Bay.  All cruises last between 60 and 90 minutes and run every two hours.
The Madeleine is a classic 72 foot schooner sailing yacht, which was designed and built to easily carry passengers and safely sail in Newport waters.  This yacht combines the comfort and convenience of a 21st century sailing yacht with the style of a 19th century sailing yacht.  A sunset cruise can be enjoyed aboard the Madeleine and includes complimentary champagne, beer and soft drinks.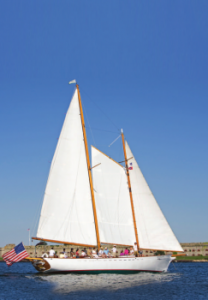 The Rum Runner II was built in 1929, at the height of Prohibition, for two New Jersey mobsters.  This high speed motor boat cruises by mansions and former speakeasies where "seaborne smugglers" dropped their goods in the 20's and 30's. The Smugglers Cocktail Cruise includes a complimentary beverage.