Fall is officially here, and there's nothing better than the comfort of pumpkin on a crisp Autumn morning.  This recipe for Pumpkin Pancakes with Nutmeg Whipped Cream will be the perfect start to any fall day.
Ingredients:
2 1/3 cup pancake mix
2 1/2 tablespoons white sugar
1/3 teaspoon ground cinnamon
1/3 ground nutmeg
1/4 teaspoon ground ginger
2 eggs
1 1/4 cup milk
1/3 cup canned pumpkin
1/4 cup vegetable oil
For whipped cream:
1 cup whipping cream
2 tablespoons white sugar
3/4 teaspoon vanilla extract
1/2 teaspoon ground nutmeg
Directions
Whisk together the pancake mix, white sugar, cinnamon, 1/3 teaspoon nutmeg, and ginger; set aside
Beat together the eggs, milk, pumpkin, and vegetable oil
Combine the two mixtures, stirring just until all ingredients are moistened
Heat a lightly oiled griddle or frying pan over medium-high heat
Using approximately 1/4 cup for each pancake, pour batter onto the griddle
Cook until the edges of the pancakes start to look dry, and a bubbles popped near the edge holds its shape
Flip the pancakes over, and continue cooking until the other side is golden brown
Repeat with remaining batter
Stack the pancakes on a plate and keep warm until serving
Place whipping cream in a small, deep, chilled bowl
Add the 2 tablespoons sugar, vanilla, and nutmeg
Beat using a mixer with chilled beaters on medium-high speed until soft peaks form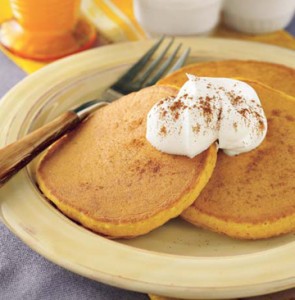 Enjoy!