July 6, 2012 by Marshall Slocum Inn
There is always so much happening in Newport, and from July 9 through 15th, the Campbell's Hall of Fame Championship will be in town at the Tennis Hall of Fame.  The Hall of Fame is located just a few minutes away from the Marshall Slocum Inn, on Bellevue Avenue.  This tournament is the only professional tennis tournament in the United States that is played on grass courts.  Olympic tennis team members will be competing in this tournament and it is even possible to get one on one hitting sessions with some of these "Hall of Famers."  Tickets for the matches range from $15 – $75 dollars depending on the match and type of seat.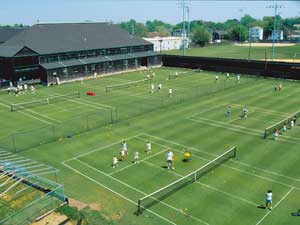 Qualifying rounds will be played on the 7th & 8th followed by the main matches the 9th-11th.  Matches will begin at 11am.  The quarter finals start on the 12th, after the Angela Moore Fashion Show and Champagne Breakfast, and continue until the 13th.  Semifinals start at 2pm on Saturday, July 14th, after the Class of 2012 induction ceremony. This year 5 new tennis players will be joining the Hall of Fame, including: Jennifer Capriati, Guga Kuerten, Manuel Orantes, Randy Snow and Mike Davies.  The event wraps up on Sunday, July 15th, starting at 10am with the Hall of Fame Classic Exhibition match, followed by a 12pm Brooks Brothers Lunch with Legends.  After lunch, the tournament finals will take place, starting at 2pm, and the new Champions will take their place in history!
April 1, 2009 by Marshall Slocum Inn
One attraction that is rarely visited by our Newport Bed and Breakfast Guests is the Newport Rhode Island Tennis Hall of Fame.  Only a five minute walk from our Rhode Island Inn, the Tennis Hall of Fame is a five star establishment with innovative and informative displays, beautiful grounds, and stunning architecture.
Many famous professional tennis players have made their way to the Tennis Hall of Fame for induction ceremonies and annual tournaments.  Andre Agassi, Steffi Graf, Pete Sampras, and John McEnroe to name a few.  Throughout the year some of our Newport Inn Guests visit to attend one of the many tournaments held on the only grass court facility in the United States but more than a few end up spontaneously going to the Hall of Fame.  All return to our Rhode Island Inn with nothing but good to say about the facilities and the staff at the Hall of Fame.  Perhaps the most infamous event held at the Tennis Hall of Fame, besides the Campbell's Tennis Tournament, is the opening act performance for the Newport Jazz Festival Weekend.  Held on the Friday night of the Jazz Festival Weekend, the concert is an intimate experience in an historic setting.  So, be sure to visit the Newport Tennis Hall of Fame during your visit to Rhode Island and our Newport Bed and Breakfast.