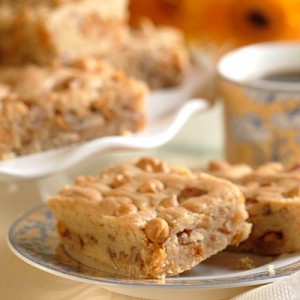 Although these brownies do not have a hint of chocolate in them they will not disappoint.  Butterscotch chips make the dish and are great in cookies too.  Also, if you ever make kitchen sink cookies/brownies it is a must to throw some of these into the mix.  As with most baked goods, the key here is your baking time.  Once the brownies turn a slight golden brown on top remove from the oven and let cool completely in the pan.  Once they are cooled they will have set up just like cookies do and will be easier to cut.
1 1/4 Cups Flour
1 Tsp. Baking Soda
1/2 Tsp. Salt
1/2 Tsp. Cinnamon
1 Cup Unsalted Butter, Softened
3/4 Cup Sugar
3/4 Cup Light Brown Sugar
2 Eggs
1 Tbl. Vanilla Extract
3 Cups Instant Maple & Brown Sugar Oatmeal
1 2/3 Cups Butterscotch Chips
Preheat oven to 375 degrees and grease a 8 1/2*11 glass baking dish.  In an electric mixer combine butter, sugars, eggs and vanilla extract.  Mix flour, baking soda, salt and cinnamon in a separate bowl.  Add to butter mixture on low speed until just combined.  Slowly add in oatmeal and butterscotch chips.  Spread evenly into baking dish.  Mixture will be moist so flour your hands if needed.  Bake for about 20 minutes or until golden brown on top.