August 15, 2014 by Marshall Slocum Inn
Usually wine isn't the first thing that comes to mind when people think of Newport.  However, if you've already hit the mansions, Cliffwalk, Ocean Drive and the downtown wharfs, or are a big wine enthusiast, the Newport County wine tour might be for you.  Newport Vineyards, Greenvale Vineyards and Carolyn's Sakonnet Vineyards each offer something a little bit different and are a perfect way to spend an afternoon.
First stop on the Newport County wine tour is Newport Vineyards, located at 909 East Main Road in Middletown.  This vineyard was originally planted in 1977 with the goal of preserving agricultural land from rapid development by producing fine wines.  Since the 70's it has grown to 60 vineyard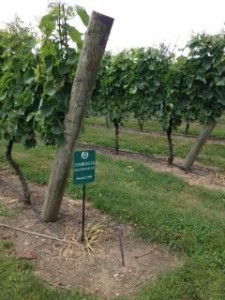 acres under the ownership of John and Paul Nunes.  Their store is open year round, 7 days a week, and they offer vineyard tours daily.  They have an extensive wine list ranging from their gold medal Great White to Newport Merlot.  They also have sparkling wines, dessert wines and their very own Cider, Rhody Coyote.
Next on the Newport County wine tour is Greenvale Vineyards, located at 582 Wapping Road in Portsmouth.  Greenvale Farm has been in the same family since 1863 and is listed on the State and National Registers of Historic Places.  Their goal is to produce great wines while maintaining a piece of American history.  They have 24 acres of grapes and produce about 7 types of wine including Skipping Stone White and Rosecliff Pinot Gris.  They are open daily year round for tastings and offer guided tours once a day at 2pm.
The last stop on the Newport County wine tour is Carolyn's Sakonnet Vineyards, located at 162 West Main Road in Little Compton.  This vineyard was founded in 1975 on historic land and has 150 acres of land, 36 of which are used for the production of grapes.  Their wine includes Rhode Island Red, Blessed Blend and Sirius, among others.  They are open 7 days a week and have 3 tours daily.
Visit one, or make a day of it by renting a wine bus and spend the day visiting all three.  Just remember, to be safe and have a designated driver!
May 12, 2013 by Marshall Slocum Inn
What's better than a nice relaxing evening, sitting on the porch, drinking a nice glass of wine after a busy day of cliff walking and mansion visits?  For many of our guests the answer to that is, nothing.  While there is no lack of liquor stores, you may find visiting the source to try some local wines more appealing.
The seeds of Newport Vineyards were planted in 1977 in a field that overlooks the Rhode Island Sound.  The goal of the planters was to produce wine in order to save precious agricultural land from development.  Aquidneck Island has one of th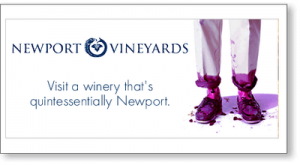 e best growing climates, allowing for a long, cool growing season for the grapes.  These first grapes were planted by Captain Richard Alexander who later teamed up with the Nunes family to build a winery in 1988.  That same year their first vintage was produced.  In 1995, When Alexander retired from wine making, the winery was aquired by John and Paul Nunes.  It was then that they established the brand "Newport Vineyards", which now encompasses 60 vineyard acres.  Newport Vineyard wines have won many awards throughout the years and the most popular wine is their "Great White".  They have a large selection of white, red, blush, dessert, sparkling, and reserve wine, as well as their own brand of hard cider called "Rhody Coyote".
Newport Vineyards is open 7 days a week from 10am to 5pm (Monday-Saturday), 12pm to 5pm (Sunday), with summer hours extending to 6pm starting Memorial Day weekend.  They offer guided tours of the vineyard at 1pm and 3pm Sunday-Friday and hourly on Saturdays between 11am and 4pm.