October 24, 2014 by Marshall Slocum Inn
The Newport Mansions are filled with the history of the wealthy families who lived in them.  Alva Vanderbilt, later Alva Belmont's story is the one that thrives behind the heavy walls of Marble House.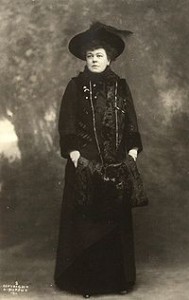 Alva was born on January 17th, 1853 as Alva Ertskin Smith, in Mobile, Alabama.  She was the daughter of a cotton broker.  After the Civil War, her family moved to France, where she was educated.  Alva returned to the States in the 1870's with her mother and sisters and settled in New York City.  She met William K. Vanderbilt at the White Sulphur Springs and agreed to marry him.  Alva played a major role in raising the Vanderbilts status in the New York elite, starting with commissioning Richard Morris Hunt to design their Fifth Avenue Mansion.
In 1888, Alva and William decided to join the Newport summer colony. Alva again went to Richard Morris Hunt to help create Marble House, which was inspired by the Petit Trianon at Versailles.  It took 4 years and $11 million dollars to complete and on August 19th, 1892, they opened Marble House to their first guests.  Unfortunately, Alva was not happy in her marriage and her and William divorced in 1895.  She was given ownership of Marble House.  After Alva remarried to Oliver Hazard Perry Belmont, Marble House was closed and she moved down the street to Belcourt Castle.
After Belmont's death in 1908, Alva became a dedicated suffragist.  She put herself and her fortune towards the woman's rights movement.  She founded the Political Equality Association in New York City, reopened Marble House in 1909 to raise money for the women's suffrage movement, and traveled to England to attend rallies.  She focused on the Congressional Union for Woman Suffrage, later the National Woman's Party, in 1914 and served on the board, using Marble House for events and headquarters for a while.  After woman won the right to vote she took over the leadership of the National Woman's Party, helping to establish a new headquarters in Washington, D.C. with her wealth.
Alva sold Marble House to Frederick H. Prince of Boston shortly before her death in 1933.
April 11, 2014 by Marshall Slocum Inn
In Newport, Rhode Island, Doris Duke was a lifelong preservationist and devoted much of her fortune to restoring colonial buildings in the city where she spent her summers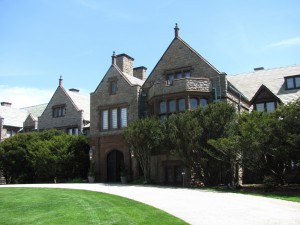 . She founded the Newport Restoration Foundation in 1968 with the purpose of preserving Newport's 18th- and 19th-century architectural heritage. Her extraordinary vision resulted in an almost single-handed rescue of Newport's early architectural heritage. Newport thrives today in large part due to its many unique historic streetscapes.
Doris Duke, the only child of James Buchanan Duke, was born on November 22, 1912. Her father was a founder of the American Tobacco Company and the Duke Power Company, as well as a benefactor of Duke University. When Mr. Duke died in 1925, he left his 12-year old daughter an estate estimated at $80 million.
As a collector, Duke spent much of her time traveling the world, amassing cou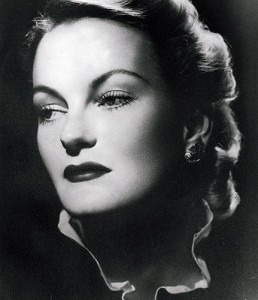 ntless treasures and notable collections of Islamic and Southeast Asian art. She also traveled throughout Europe building her collection of fine art and furniture, much of which she used to furnish Rough Point, her home in Newport. She left Rough Point, intact as she lived in it, to the Newport Restoration Foundation to be opened as a museum. Two of her other homes are also open to the public. Visit Shangri-La in Hawaii which is home to an impressive collection of Islamic art. Explore Duke Farms, Doris's 2,700 acre New Jersey estate featuring remarkable outdoor resources such as walking trails, gardens and environmental programs.
Doris Duke gave away more than $400 million to various causes during her lifetime, often as anonymous contributions. Upon her death in 1993, she left her vast fortune to the Doris Duke Charitable Foundation which supports the performing arts, environmental conservation, medical research and the prevention of child abuse.
February 14, 2014 by Marshall Slocum Inn
The International Tennis Hall of Fame & Museum is a non-profit institution, establish in 1954, that works to preserve the history of tennis while inspiring tennis development and honoring those who have earned a spot in the International Tennis Hall of Fame.  Located on six acres here in Newport, the International Tennis Hall of Fame & Museum was officially recognized by the International Tennis Federation as tennis's official Hall of Fame.  The museum displays the history of the sport and honors 235 athletes.  There are 13 grass courts and an indoor facility, which are open to the public and club members.  Every July, the Hall of Fame Tennis Championships for the Can Alen Cup are held here.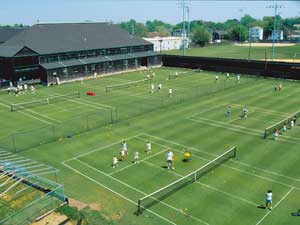 The International Tennis Hall of Fame's programs grow every year.  They are open 363 days of the year, and offer educational and entertaining programs for both children and adults.  The museum also has a research library dedicated to tennis that offers over 350,000 books, images and audio visuals.  Both beginners and national champions are invited to play on the indoor or outdoor courts.  The Hall of Fame also offers cultural entertainment such as theatrical productions, movie screenings and musical performances.
In August, 2013, the Tennis Hall of Fame set out on a campaign to enhance the visitor experience as well as the local community.  There are four main focus areas to the campaign; to upgrade the museum with new technology; to add additional facilities and tennis courts; improve amenities, including upgrades to the stadium; and to renew the look of the street on Memorial Boulevard so it complements the historic building where the Hall of Fame is located.
This organization hasn't led a major capital campaign in 12 years.  Fundraising for this campaign has been going on for about a year and a large portion of their $15.7 million dollar goals has been secured.  Once the rest of the funds are secured, they will begin upgrading to make the Tennis Hall of Fame experience even better.
December 23, 2013 by Marshall Slocum Inn
Nothing says "Happy New Year" like a nice dip in the freezing cold Atlantic Ocean.  The annual Polar Plunge will be held on January 1st, 2014 at 12pm at Easton's Beach.  The Newport Polar Bears welcome anyone who wants to brave the Atlantic in the winter. At this event, money is raised for A Wish Come True, a Rhode Island Charity that grants wishes to children suffering from life threatening illnesses.
A Wish Come True was started in 1982 by Rosemary Bowers, who wanted to make the lives of children suffering from severe illnesses a little brighter.  The mission of this charity is to, "grant every medically qualified child (ages 3 to 18) one memorable wish."  In their first year, they granted 12 wishes and have increased that number to about 3 or 4 wishes per month.  A Wish Come True have completed over 1400 wishes since its start.
The Polar Plunge is a great way to kick off the New Year.  It is sure to be a great time for everyone, no matter if you brave the icy Atlantic or not.
November 15, 2013 by Marshall Slocum Inn
The holiday season is upon us here in Newport, and there are plenty of activities going on that will put you in the holiday spirit!  The following are some great holiday happenings in Newport:
The Polar Express: Every weekend starting now until Christmas, take the spectacular journey to the North Pole with Santa and Mrs. Claus.  Caroling, hot chocolate and cookies are all part of the experience.
Christmas at the Newport Mansions: From November 23rd to January 5th, three of Newport's mansions, the Breakers, the Elms and Marble House will be decked out in holiday décor.  The houses will be filled with thousands of fresh flowers, poinsettias, evergreens and wreathes.  Each mansion will be open for tours daily.  You can also enjoy Holiday Evenings at the mansions on various dates, where you can enjoy light refreshments and music as you wander through the mansions.
Holly Days: On Saturday, December 7th, the Normal Bird Sanctuary will be hosting a holiday fair from 10am to 1pm.  Enjoy hiking, holiday crafts, games and more.
Bowne's Wharf 43rd Annual Christmas Tree Lighting – On December 7th, head down to Bowen's Wharf for their annual Christmas Tree Lighting.  Festivities start at 4:30 with Frosty the Snowman and Christmas Carols.  The tree lighting starts at 6:00 and Santa will be paying everyone a visit.
October 11, 2013 by Marshall Slocum Inn
If you're planning on spending Columbus Day weekend in Newport, but aren't sure what to do, here's a list of possible ideas:
Fortress of Nightmares: Head to Fort Adams State Park anytime after 6pm to experience the tunnel of terror, or join other ghost lovers for a ghost hunt starting at 10:30pm.  These terrors will be around every weekend of this month.
International Oktoberfest: Join your fellow beer lovers down at the Newport Yachting center on October 12th or 13th for music, food, and of course, beer. This festival is an official send off to summer and welcome to fall.
Festival in the Park: This free event will be held between 11am and 4pm on October 12th in Touro Park. Enjoy Italian music and food as well as dancing and raffles.
Live Improv with the Bit Players: Head down to the Firehouse Theater to enjoy live Improv by Newport's best comedy crew.  Join them at 8pm on Friday or attend one of their Saturday shows at 8pm or 10pm .  This is a BYOB event.
September 27, 2013 by Marshall Slocum Inn
Most people don't think about history when they go out to eat, but at the White Horse Tavern it's hard not too.  This Tavern is the oldest, still running Tavern in the United States, rich with history and still serving excellent food.
The White Horse Tavern has only had 6 owners since being built in 1652 as the two story home of Francis Brinley.  Just over 20 years later in 1673, this property was acquired by William Mayes, Sr., who transformed it into a tavern, identifying it with a white horse – the symbol of a tavern during that time.
For about 100 years before the Colony House was constructed, this tavern was a meeting place for the Colony's General Assembly, Criminal Court, as well as City Council.  When William Mayes Jr., a notorious pirate, became the innkeeper in 1702 after his father, he was granted a license to sell "all sorts of Strong Drink." William caused much embarrassment to the British officials and William's sister Mary and her husband Robert Nichols soon became the tavern's innkeepers.  City councilors continued to dine here and charged their meals to the public treasury.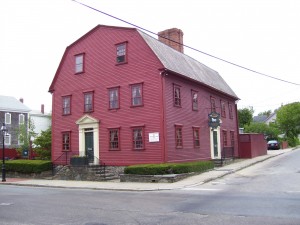 In 1730, a new tavern keeper, Jonathan Nichols, gave the tavern its present name, The White Horse Tavern.  He was followed by Walter Nichols, who left Newport in 1776 to avoid the British, but returned later. When he returned, he added a gambrel rood and re-opened the tavern.
The Nichols family sold the tavern in 1895 to Thomas and Bridget Preece and it became a rooming house.
The structure suffered from use and neglect by 1954, but was acquired by the Preservation Society of Newport and was restored.  In 1957 it re-opened as the White Horse Tavern.  In 1981, O.L. Pitts and three partners purchased the Tavern and continued the tradition of "good fellowship, good food and good cheer."  O.L. Pitts gave the tavern over to Paul Hogan, a native of Newport on his 90th birthday, and the White Horse Tavern continues to thrive.
August 18, 2013 by Marshall Slocum Inn
Summer in Newport is winding down making way for Fall, but there's still time to enjoy the beach!  Newport has various beaches to satisfy any ocean lover.  While there are a few private beaches around town, most beaches are open to the public.
First Beach – Also known as Easton's Beach is located just a mile from our Newport Inn.  It's located on Memorial Boulevard, where you can also find the beginning to Cliff Walk. This is one of the more popular beaches and has a snack bar, carousel, skate park and gift shop.  Many events take place on the beach such as concerts and volleyball tournaments. Parking costs between $10 and $20 and metered street parking is available.
Second Beach – Also known as Sachuest Beach, this beach is located in Middletown, next to the Norman Bird Sanctuary.  This is a quieter beach with less seaweed and better waves for surfers.  There is a snack bar and Del's Lemonade available. Parking is between $10 and $20.
Third Beach – Third Beach is past Second Beach in Middletown. This is a small beach but is very peaceful and offers calm waters without many waves.  It's a good spot for wind surfing and there's also a public boat ramp. Parking is between $10 and $20.
Gooseberry Beach – Gooseberry Beach is located along Ocean Drive and is set back in a cove so there aren't many big waves.  Many families come to enjoy this beach. The beach club here is private, but food can be purchased at the Gooseberry Café.  Parking is $20.
Reject's Beach – This beach is a public section at the end of Bailey's Beach, which is a private beach.  This beach is only accessible by walking or biking so it is usually less crowded.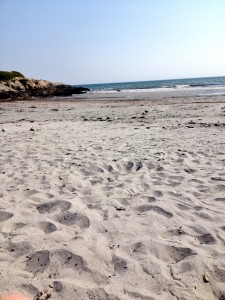 August 12, 2013 by Marshall Slocum Inn
The Isaac Bell House sits on the corner of Bellevue Avenue and Perry Street and is one of the best examples of shingle style architecture in the nation.  It was built between 1881 and 1883 by McKim, Mead and White as the summer residence for Isaac Bell Jr.  Bell was a wealthy cotton broker and the brother-in-law of the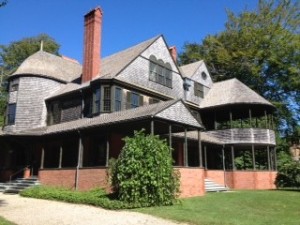 publisher of the New York Herald, James Gordon Bennett.
This house blends English Queen Anne with New England colonial.  The architects used Oriental design influences which created a new "vernacular" style, known now as "shingle style."  The Isaac Bell House helps illustrate the evolution of Newport as a premier place for great design and a distinctly American style of architecture.  This house also features Arts and Crafts interiors, an open floor plan and Japanese inspired columns.
This house was passed through a variety of owners before being purchased by the Preservation Society of Newport County in 1994.  The house was designated as a National Historic Landmark in 1997.
July 26, 2013 by Marshall Slocum Inn
Touro Synagogue, the oldest synagogue in America, is located just minutes away from our Newport Inn.  Newport's first Jewish residents made their way to the island in 1658 from Barbados.  Upon the arrival of these fifteen families, a new congregation was formed.  They called themselves the "Yeshuat Isreal." By 1677, the congregation realized they needed to acquire land for a Jewish cemetery and Mordechai Campanal and Moses Israel Paeheco, two of the original immigrants, purchased a lot on the corner of what is now Kay and Touro Streets.
The Jewish population had grown by 1758, to a point where they needed a larger, permanent gathering place and house of worship.  Peter Harrison, a Newport resident volunteered to design the synagogue and construction began in 1759.  Newport's Jewish c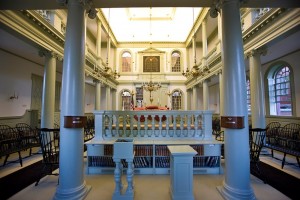 itizens were closely tied to communities throughout the mid-Atlantic region as well as the Caribbean and garnered significant financial support.  Communities in London, Jamaica and Surinam also lent financial support.  The building was completed in 1763 and was dedicated on December 2nd, during the Chanukah festival celebrations.  The dedication was a regional ceremony attended not only by the congregation, but by clergy and other dignitaries from around the colony.
During the American Revolution, the British occupied Newport and many of the Jewish residents fled the city.  Isaac Touro kept watch over the synagogue and it became a hospital for the British military as well as a public assembly hall.  British troops were desperate during the cold winters and tore down and burned a number of local residences and buildings, however, since the synagogue was used as a hospital and meeting place, it was saved from the same fate.  British troops evacuated Newport in October of 1779 and within the next few years many of the Jewish families returned.
The war took a toll on the regions economy and rival ports quickly overshadowed Newport.  Many of the Jewish merchants had business interest in these other cities, and by the end of the War of 1812, most of the families had moved.  The synagogue was used occasionally for holy days and funerals.  The congregation decided to lock the doors and left Stephen Gould as caretaker.  Legal oversight and its deed were given to Congregation Shearith Isreal of New York, with whom there was already a close relationship.  Even with the distance from the synagogue, Newport natives Abraham and Judah Touro both provided aid to maintain the properties. Abraham had a brick wall built around the cemetery in 1820 and bequeathed $10,000 to the State of Rhode Island for the support and maintenance of the "Old Jewish Synagogue" when he died.  He also bequeathed $5,000 for the maintenance of the road connecting the cemetery and the synagogue.  Because of his generosity, this street was named Touro Street the synagogue took on the name of Touro Synagogue.  Judah died in 1854 and had previously replaced the wall his brother had made which had fallen into disrepair.  His will included $10,000 towards the ministry and maintenance of the synagogue.
In 1881, the "new" Jewish community of Newport petitioned the New York congregation to reopen the synagogue for services and to appoint a permanent rabbi.  Congregation Shearith Isreal in New York complied and sent a rabbi from London, but retained the rights to the building.  A lease amount of $1 per year is still paid to the New York group.  In 1946, Touro Synagogue was designated as a National Historic Site, followed two years later by the Touro Synagogue Foundation to aid in the maintenance and upkeep of the building and grounds.  Touro Synagogue remains an active house of worship and is open for tours.